Estate Sale Services

Our Estate Sale services include: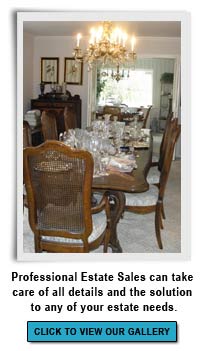 Two to three day estate sales (four day sales conducted for larger estates).
Organizing & displaying household contents by category.
Providing display tables and locking cases for valuables as well as items placed at check out.
Researching, inspecting and evaluating each item in the estate for sale (research is essential in order to properly identify the value of an item).
Pricing items.
Professional interior signage (directional, informational & safety).
Providing security if necessary.
Advertising and promotion of the sale, including local newspaper ads, emails sent to approximately 1800 customers and professional outdoor signage.
Obtaining proper permits.
Staffing the sale with qualified, uniformed staff members including staff at the door. Our friendly and knowledgeable staff answer technical questions, test electronics when requested, work the floor to encourage sales, and write sales tickets for all items to be purchased.
A sign up number system that will be in place the day of the sale and will carefully limit the number of customers in the home at any given time.
Using a silent bid system to encourage the sale of higher priced or slow moving items.
Providing bags and wrapping paper for purchases.
No cash up front - our commission comes out of proceeds.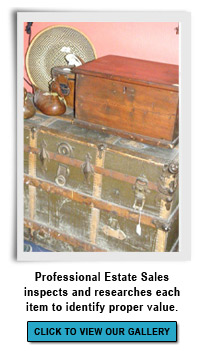 Professional Estate Sales is a full service company. We coordinate charity and third-party pickups after the sale. This is especially important to our customers and leaves them with a clean, empty house after the sale.

We are a proud eBay seller. We offer eBay Consignment Services items that would benefit from world-wide exposure on items of higher value.

Professional Estate Sales has many letters of recommendations from our satisfied customers including senior retirement centers, attorneys, accountants, and real estate agents. Our company policy is to show kindness, caring, and compassion for the families, along with respect for the property involved, and to make the liquidation of personal property as easy as possible for executors, conservators, and family members.

Professional Estate Sales is bonded and insured.