Estate Services

Professional Estate Sales is a full-service estate sale company. Our team is made up of honest, reliable, caring, and enthusiastic individuals who bring over 75 years of combined retail experience. We will guide you through the process from start to finish, happily answering any questions so that you are informed each step of the way.

We know first hand how challenging it can be to move from the house one has lived in for decades, or the difficulty in liquidating the estate of a loved one who has recently passed away. Professional Estate Sales can help ease these stressful situations through our many years of managing successful sales.

Highlights of our Estate Sale services include: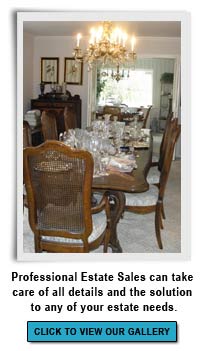 Two to three day estate sales (four day sales conducted for larger estates)
Organizing and displaying household contents by category
Providing display tables and locking cases for valuables as well as items placed at check out
Researching, inspecting, and evaluating each item for sale to properly identify its value and price accordingly
Professional signage for directions, information, and safety
Providing security if necessary
Advertising and promoting the sale through print advertising, an email list of of 4900+ customers, and professional signs, strategically placed outdoors
Obtaining proper permits
Staffing the sale with qualified, uniformed staff members who will manage customer traffic, answer questions, test electronics if requested, encourage sales, and write tickets for purchases
Managing and carefully limiting the number of customers in the home at any given time
Using a silent bid system to encourage the sale of higher priced or slow moving items
Providing bags and wrapping paper for purchases
No cash up front - our commission comes out of proceeds
Coordinating charity and third-party pickups after the sale, leaving a clean and empty house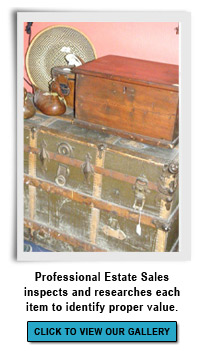 Professional Estate Sales has many letters of recommendations from our satisfied customers including senior retirement centers, attorneys, accountants, and real estate agents. Our company policy is to show kindness, caring, and compassion for the families, along with respect for the property involved, and to make the liquidation of personal property as easy as possible for executors, conservators, and family members.

Please call us at 210-826-SOLD (7653) or email us if you would like more details, have specific questions, or get started on scheduling your sale. We look forward to assisting you!

Professional Estate Sales is bonded and insured.